Home
Details

Written by

Super User

Category: General
Hits: 9609
At the dinner table today, the meal was spaghetti and meatballs.  As per usual with spaghetti and meatballs, it was served at the same temperature as molten lava. 
When I sat down in front of my plate, the spaghetti and sauce were steaming.  I hate burning my mouth with intense passion, so there was no way I was going to eat it like that.  So, I leaned over and blew on it to cool it down.  
My Mom looked at me like I was insane. 
Mom: "I don't think that does anything."

Me: "What?"

Mom: "I don't think blowing on you food cools it."
We have had this conversation before.  I still don't get what's confusing about blowing on your food to cool it down.  It works.  People have been doing it for millenia.
Me: "Of course it does.  Blow on your hand.  Does it feel cooler?  See!  It works!"

Mom: "I just think you're wasting your time.  It doesn't do anything."

Me (growing angry): "How?  What?  When it's cold outside, do you feel colder when the wind blows?"

Mom: "Yes, but that's when it's cold.  I don't think it does anything when it's hot like that."

Me (growing increasingly frustrated that she is impervious to my logic):  "But it works when it's hot too, right?  When it's like 90 degrees out, isn't it better when the wind picks up?"

Mom:  "Well... I don't know. "
At this point she goes back to eating.  However, she has not agreed to my point, so I can't let it go.  I can never let it go if I am obviously right.  I NEED the other person to not just agree with me, but understand WHY I am right.  You can't placate me with a quick concession - that's not good enough.  I need to know that you KNOW that my logic is correct.  It's not that I'm correct.  It's that something is wrong.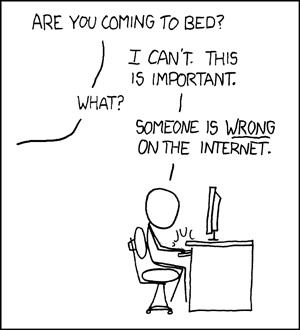 Me: "No. That is unacceptable. It's getting cooler. Look! It was steaming, then I blow on it, now - no steam!"
She looks at me and shrugs.
Mom: "It doesn't do anything."
Alright. This had gone on far enough. Now it's time to bring out the SCIENCE!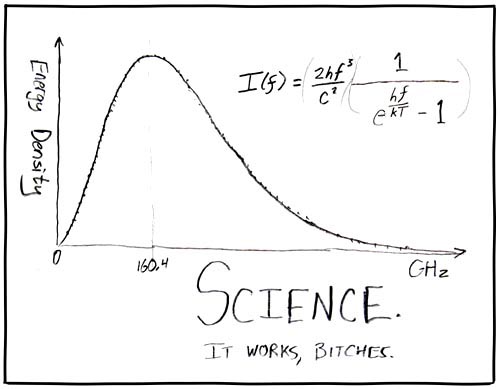 In the fall, my Dad was complaining about how the laundry room was always cold.  He thought that there may not be insulation in the walls.  So, as a Christmas present I got him (really me) this completely awesome infrared thermometer. You point it's laser at something, pull the trigger, and it tells you the temperature of whatever surface it's pointed at.  It has solved countless arguments and is also totally fun at any time of day.  (For instance, I pointed it at the back of my little sister Allison's neck and said aloud, "Hmmmm.... 86.3..."  When my other sister, DD, asks me what 86.3 is, I reply "86.3 is the skin temperature of a booze-hound."  Hysterics ensue.)
So, back to the spaghetti argument.
I scream, "That's it!" and leave the table.  I hunt down the infrared thermometer and bring it to the table.  The only problem is that now my spaghetti isn't hot.  So I march over to the sink and the rest of the spaghetti still left in the strainer.
Beep.  "117.2 degrees!"
I lean over and blow on the spaghetti for about three seconds.  
Mom: "Stop it!  No one wants you to spit all over the spaghetti.  Someone else is going to eat that!"
Complaints like this are the last refuge of those who fear the truth.  She was no longer attacking my idea, because even though she would not admit it, she knew I was right.  Whenever people stop attacking your ideas and start attacking you, you've already won.
 Beep. "110.3 degrees!"
I walk over to the table.  A bad mood has now settled like an ominous cloud over the table.  I am undeterred.
I put the thermometer on the table and take my seat.  
Me: "See?  It works.  I just proved it."
Silence.
I then pick up my fork and begin eating again.  My spaghetti is no longer hot.  It is now just right.
I have no idea how people can stand living with me.
Details

Written by

Super User

Category: General
Hits: 10203
For those of you who don't follow hockey - last night, my New Jersey Devils broke my heart.
And now a quick break to ameliorate the pain:
Craig Ferguson - simply the best host in late night. Seriously, how many people just have the TV on as Letterman ends, and then this comes out without any explanation whatsoever? Ferguson rules. Back to the pain.
Since moving back to New Jersey, I've been able to follow the Devils during the regular season.  When I lived in Michigan or North Carolina, I didn't buy the Center Ice TV package and I could not get MSG+ - so my fandom was limited to the rare national Devils game or trying to watch them over the internet during the playoffs.  But now that I'm back, I can watch the regular season games and get into a rhythm with the roster and their ups and downs.
This year, I followed them especially closely as I felt that they had a chance to go all the way.  I watched as buy viagra online pharmacy buy amoxicillin phentermine Marty Brodeur went down with a torn bicep for a few months.  I watched as they floundered without him.  I watched as they found their way and began to turn the season around.  I watched as they marched through the league and got within a few points of Boston for the best record in the Eastern Conference.  I watched as they fumbled in the last souple of weeks fo the regular season.  And I watched as they played one of the best series I have ever seen - Devils vs. Hurricanes, first round, 2009 NHL Playoffs.
The first game, the Devils won handily.  Then the Canes tied it up in Game 2 with an overtime goal to steal a win in NJ.  For game 3, the Devils went to Carolina and won in the second overtime game of the series.  Wait... it gets better.  In game 4, the Canes won on a goal with 0.2 seconds left.  The series was tied again.
Details

Written by

Super User

Category: General
Hits: 9943
Late as usual, but I am heading off for Bonnaroo and three weeks of a road trip. I'll be posting hundreds of photos here and blog posts when I get to Tulsa (mid-next week), but until then, you'll have to settle for Twitter updates.
You can see my latest Tweets on the right column at the top. If you're getting here as I'm leaving, you'll probably see old tweets from last year when I was at Lollapalooza.
Anyway, I really have to get going if I'm going to see Danny buy viagra online pharmacy buy amoxicillin phentermine tonight in Roanoke. Then, its on to Bonnaroo and my feeble attempt to connect up with the guys from Michigan. Our RV fell through, so we're trying to go in together. From all reports, the traffic will be epic - so I'm not optimistic. However, we do plan on arriving early - I'm getting there tonight around 1 AM and they're arriving tomorrow morning around 6 AM. The festival grounds open at 7 AM-ish and the first show is in the afternoon. There's not much on Thursday for shows - but I do want to check out The Low Anthem at least.
Feel free to comment in the forums on this post. Just ignore the spam - I'll delete it later. I tried to install a spam blocking mod to the forum, but it flat-out wont work. Maybe I'll fix it next week. Time to hit the road.
Details

Written by

Super User

Category: General
Hits: 9650
Alright, so I was supposed to post a bunch of legendary photos and video from Bonnaroo by now - but I forgot to plan in the fact that I am unbelievably allergic to Tulsa, Oklahoma. I spent part of the week in bed just suffering. At least I am planning on handling being sick by taking a 20 plus mile hike through 95 degree heat in Arkansas the next two days. I really have a problem.
Anyhow, I do have over 11GB of photos and video to go through - but I can't give it the time it deserves before I leave for the hike. So, instead, I'll give you a teaser and I'll publish what I've been working on some time next week.
In case you weren't following on Twitter (you can read my five latest Tweets on the right of this page), Bonnaroo was legendary. I was in the pit for Bruce, saw NIN's last US show ever, rocked it with strangers for Phish, and then got on stage for over an hour with Girl Talk. To post just one photo from the weekend is giving it short shrift, so I'll give you two. This might be my favorite. It's from the end of the Girl Talk set - I was covered in sweat from dancing on stage for 75 minutes or so. The man in the photo is Greg Gillis, who is "Girl Talk".  To the left, he is facing 5,000 to 10,000 screaming fans, delirious at 4:30 AM after a full day of shows.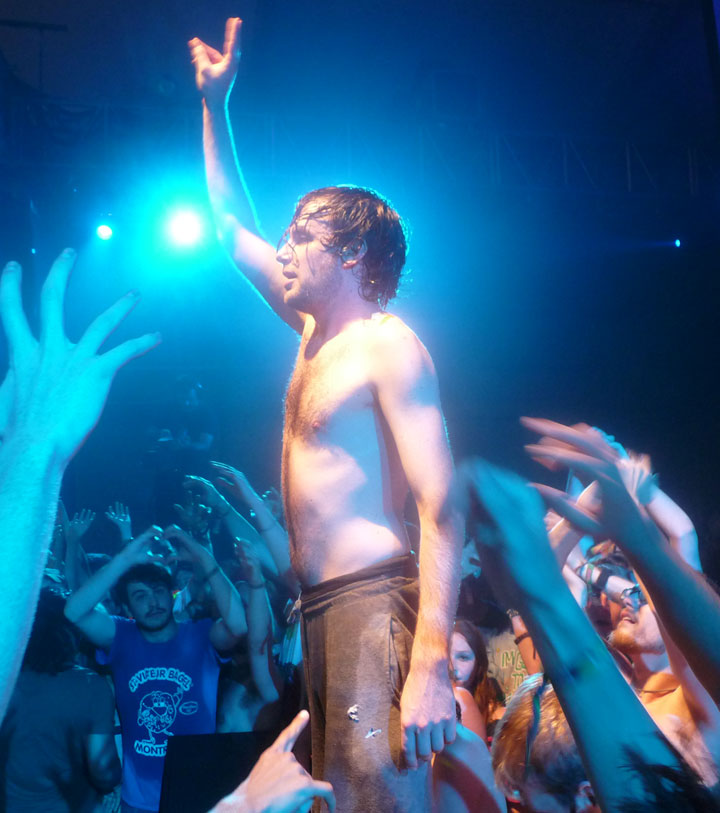 And this is what he and I were looking out at for over an hour: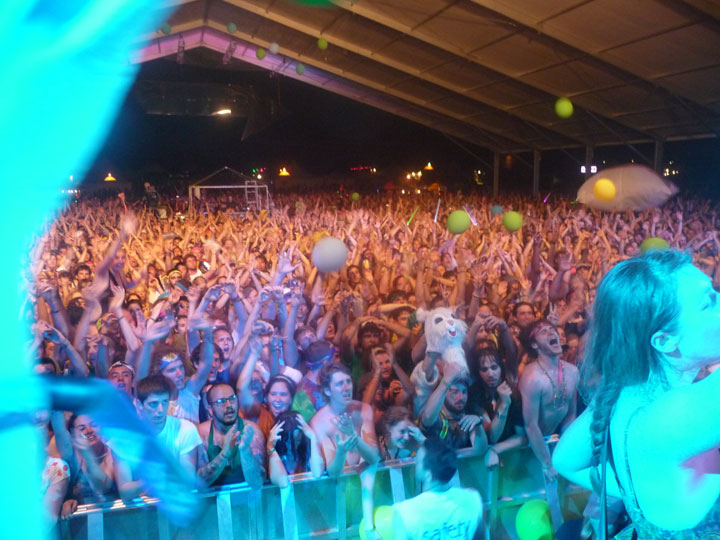 Seriously, the whole weekend was that amazing.  More to come next week - now its time to hike.