At the dinner table today, the meal was spaghetti and meatballs.  As per usual with spaghetti and meatballs, it was served at the same temperature as molten lava. 
When I sat down in front of my plate, the spaghetti and sauce were steaming.  I hate burning my mouth with intense passion, so there was no way I was going to eat it like that.  So, I leaned over and blew on it to cool it down.  
My Mom looked at me like I was insane. 
Mom: "I don't think that does anything."

Me: "What?"

Mom: "I don't think blowing on you food cools it."
We have had this conversation before.  I still don't get what's confusing about blowing on your food to cool it down.  It works.  People have been doing it for millenia.
Me: "Of course it does.  Blow on your hand.  Does it feel cooler?  See!  It works!"

Mom: "I just think you're wasting your time.  It doesn't do anything."

Me (growing angry): "How?  What?  When it's cold outside, do you feel colder when the wind blows?"

Mom: "Yes, but that's when it's cold.  I don't think it does anything when it's hot like that."

Me (growing increasingly frustrated that she is impervious to my logic):  "But it works when it's hot too, right?  When it's like 90 degrees out, isn't it better when the wind picks up?"

Mom:  "Well... I don't know. "
At this point she goes back to eating.  However, she has not agreed to my point, so I can't let it go.  I can never let it go if I am obviously right.  I NEED the other person to not just agree with me, but understand WHY I am right.  You can't placate me with a quick concession - that's not good enough.  I need to know that you KNOW that my logic is correct.  It's not that I'm correct.  It's that something is wrong.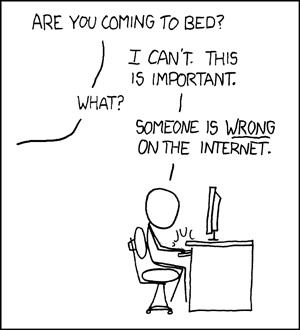 Me: "No. That is unacceptable. It's getting cooler. Look! It was steaming, then I blow on it, now - no steam!"
She looks at me and shrugs.
Mom: "It doesn't do anything."
Alright. This had gone on far enough. Now it's time to bring out the SCIENCE!